Tags
Related Posts
Share This
Leicester Comedy Festival: The Preview Show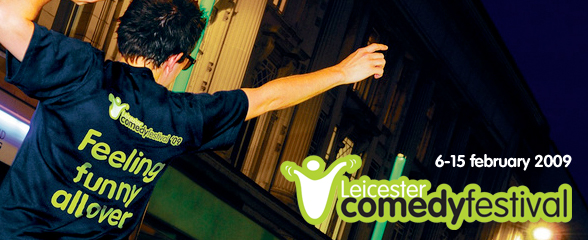 It's back, the festival that turns a little nothing city into the nexus of funny for 10 days begins on Friday, 6 February and the build up has begun!
The yearly preview show acts as both festival launch for invited guests and media and a showcase for people who want to go but are a little afraid booking for those they haven't seen on Mock the Week or Live at the Apollo.
The cavernous DeMontfort Hall plays host to the yearly comedy trailer fest and it's nice to see so many people in a room watching comedy that they haven't anticipated with faces that they won't know, it's a room filled with danger and the unknown and it's fantastic and has sold out 7 years in a row!
This year the night was helmed by 'Hot Flash Barbie' Jenny Eclair, her first ever time as compare! She was perfect, absurd, inappropriate and filthy further proof of the 'Joan Rivers Theory' that the older you get the more you can get awaywith, a personal highlight was Ms Eclair lying down miming receiving a smear test and being masturbated with a speculum, fantastic. Her 'mental aunt at a wedding' mentality worked perfectly holding the very different styles of comics together.
Our first victim was Jarred Christmas and he was the perfect shot of adrenalin, Jarred is one of the most energetic comedians and his material is wonderfully delivered, learning about his top ten dinosaurs was a treat!
Next up on the Comedy conveyer belt was, pains me to say it but, Asian Comedian, Shazia Mirza, it only pains me because 'asian comedian' shouldn't have to precede her name but as that is all she seemed to be this evening. She appeared shell shocked and left the stage in a little bit of a hurry, it was an odd set and wasn't her best. It's a shame as I have seen her before and she was much, much better.
Then after a foot in mouth introduction by Jenny Eclair we were treated to the tidy Jon Richardson, he relit the comedy touch paper with some self deprecating humour, to me he is the anti Frankie Boyle, not mean and oddly huggable, even though it would be awkward and you know he wouldn't enjoy it.
Count Arthur Strong came along to divide the audience next, I enjoyed him to a point but soon became frustrated wishing he'd get on with it, but he was a highlight for two of our friends, I just don't get the cult of Count Arthur Strong!
Starting our second act was Micky Flanagan, oddly, and I don't know why but I didn't want to like him. His wonderful persona and belly laugh inducing material however soon had my mind changed, a very accomplished stand-up.
Henry Packer delivered the weakest set of the evening, last year's Leicester Mercury comedian of the year I'd heard very good things about him and I was much underwhelmed.
The stand out star of the night was the incredible Hans Teewen a long haired Dutch absurdist who began with a song about Nostradamus' trousers and any more description about what went on would not do it justice, he was brilliant truly brilliant go and see him!
Ending the evening was Radio 4 favourite Mitch Benn who performed some of his great songs but the banter in between came across as a little self centred and arrogant and after such a fantastic show a bigger, louder headliner may have been needed, however his rock opera of the Very Hungry Caterpillar gets me every time!
All in all if this is the shape of things to come from this year's festival it's going to be amazing, truly amazing!
We'll be blogging the whole festival and Blackett will be blogging over on their site too at www.comedy-festival.com