Mark's Media Matriculation 28/10/08
The Great - Historical figures in Lego
If like me, your childhood was spent with many a happy hour building lego things, then the mere idea that lego people could represent current famous people, and historical figures will either appall you or amaze you - I was amazed - look at these!!
see also, such wonders as Michael Jackson, Bill Clinton (without trousers), Madonna (complete with cones), Napoleon (who's actually been made shorter

)
The Good - John McCain totally looks like Dr Evil
I thought i'd hop on the Back Obama bandwagon and display this for everyone to see: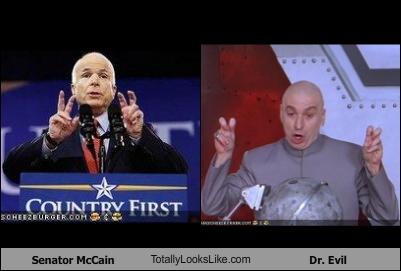 lol at McCain and his being lolled at worldwide, muhahahahaha.
The Bad - Jerry Lewis says bad things - upsets cricketers and gays
American Comedian, Jerry Lewis decided to say that cricket was a 'fag sport' on a recent trip to Australia.  what i find funny is that lgbt spokespeople and cricket spokespeople are equally as outraged that they've been connected with the other, all the gays are like 'ew, sport, how very dare you' and all the cricketers are like 'raaaar, cricket am manly! we not fags'
well, not quite those words, but you get my point, anywho, just to settle the score, cricket is not faggy, faggy isn't an appropriate word, and gays can't be accused of playing sport, so everyone's happy

The Queen - Hetero Californian couple complaining:
Apparently, heterosexuals are now discriminated against by the Californian marriage doodah - the dealio is that in the new laws in california, rather than the marriage license having a 'bride' and 'groom', it has 'Party A' and 'Party B'. how utterly terrible…
oh no…
poor them…
thats far worse than centuries of persecution, under-representation, and stereotype…
how will they cope?